About Us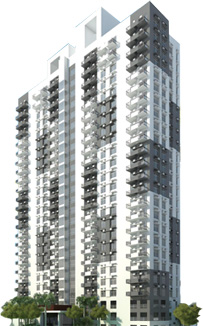 About Kasara
Where is the best place to go for a vacation? Take the plunge in this newest resort property address in the city as Kasara creates a fun and relaxing community you won't find anywhere else.
Treat everyday like you're on a grand vacation , enjoying Kasara's water amenities like man-made lagoon, waterfalls, ponds and infinity pools. There's also plenty of space to run or walk around inside this community as Kasara is made up of 65% open spaces where dwellers could commune with nature.
Shift back easily to your real world as Kasara's location along C5 Road easily leads to your office in the nearby Ortigas or Makati CBD. Drive your kids to school as St. Paul College Pasig and Lourdes School of Mandaluyong are just around the corner. Do your weekly groceries across SM Hypermarket Pasig or go shopping spree in Tiendesitas or SM Megamall.
Reward yourself and your loved ones with a Kasara address for a stress-free vacation lifestyle.
About Empire East
At Empire East, we don't just build homes but we make people's lives beautiful.
Creating self-contained communities in the most strategic places in Metro Manila and the nearby provinces. As the affordable arm of leading developer Megaworld Corporation, we constantly build quality homes in response to the growing demand for the basic need of a decent and proper shelter for every Filipino living in the city. We provide a community that's conducive for living, where the essential things in life are within reach. We put "life" to every Filipino's life by giving the lifestyle they deserve. We always put customer satisfaction on top of our list, making sure that clients' demands for a good life are always met and continuous lifetime support are extended to them.
Since 1994, we remain on top of our game as we continue to sustain our reputation of building high-quality homes in all our township projects and our drive to introduce innovative concepts that will set the trend in the industry, including the introduction of affordable and flexible payment schemes in the market in the midst of the 1997 Asian Financial Crisis when most construction works were put to a stop. The company takes pride of its finished projects in and out of Metro Manila which include Laguna Bel-Air. California Garden Square, The Cambridge Village, The Xavier Hills, San Francisco Gardens, Greenhills Garden Square, Little Baguio Gardens, Gilmore Heights, Governor's Place, and the Kingswood Makati.
At present, the company is focused on its latest innovation which is the Transit-Oriented Development (TOD) patterned after Singapore. TODs aim to address the long-time problem of continuous oil price hike, traffic congestion, and pollution in the city as taking the major transit systems for faster mobility in the city is highly encouraged. Construction of the two TOD projects---the San Lorenzo Place in Makati and Pioneer Woodlands in Mandaluyong which have direct access to MRT Magallanes and MRT Boni stations respectively--are ongoing. In addition, Empire East also introduces its first water amenity-themed project, The Kasara Urban Resort and Residences located in Pasig City. Other ongoing projects include The Little Baguio Terraces, The Rochester, Central Park, and The Sonoma.
Vision
To be the leader in its class...not just to build more, but to build the best, in the service of many generations to come.
Mission
It is our commitment to develop popularly-priced real estate properties that offer good value for money.
VISIT EMPIRE EAST WEBSITE